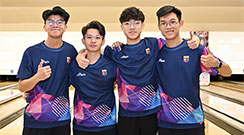 Hong Kong boys take second spot
9th July, Bangkok: Hong Kong's Daniel Tse, Jeremy Wong, Amen Yuen and Jason Leung finished second in the Boy's Team of Four first block at the 21st Asian Youth Tenpin Bowling Championships behind Korea in first and ahead of Thailand in third.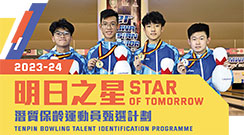 Tenpin Bowling Talent Identification Programme
5th July, Hong Kong: Hong Kong Tenpin Bowling Congress invites athletes to join the Tenpin Bowling Talent Indentification Programme - Star of Tomorrow on July 22 and 23 July, 2023 at SCAA Bowling Centre, Caauseway Bay.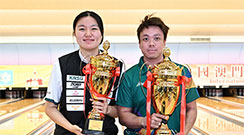 Topseeds capture first international title
25th June, Macau: Topseeds James Lui of Hong Kong and Kang Hye Rim of KNSU, Korea captured their first international Men's Open and Women's Open Masters titles at the concluding 2023 Macao-China International Open on Sunday.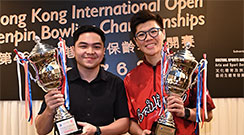 Masters crown for Malaysian and Hong Kong
17th June, Hong Kong: Second-seed, Tun Hakim of Malaysia and topseed, Joey Yip of Hong Kong were crowned the 46th Hong Kong International Open Masters champions on Saturday evening at SCAA Bowling Centre.